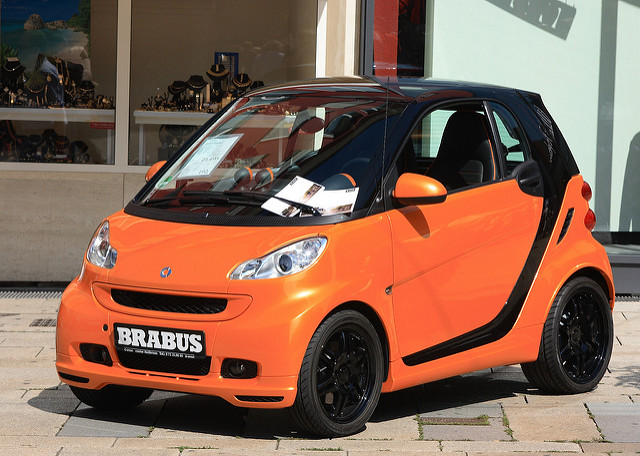 Photo by dmytrok (Flickr)
The idea behind the Smart car started when the inventor of the Swatch, Nicolas Hayek, wanted to have a car that fit with the identity of his watch company. He teamed up with Mercedes-Benz in 1994 to create the Smart, short for "Swatch/Mercedes Art." The first vehicles went on sale in 1998, and immediately the little car started a buzz. But as the buzz wore off, sales slumped, and consumers did not respond well to designs such as a roadster and a four-door Smart car. The company lost billions of Euros before it released a redesigned two-seater called the Fortwo.
Rise of the Fortwo
The Fortwo debuted in the United States in 2008. Initially, the car sold very will primarily due to skyrocketing gas prices. But as gas prices fell, so did the sales of the Fortwo. By 2012, the number of Smart cars sold in the United States had been more than cut in half from the original 2008 release, but the Smart car was not quite done in the United States.
In 2014, Smart announced that the Fortwo line would have two electric cars; the Electric Coupe and the Electric Cabrio. To rate the efficiency of electric cars, the United States government uses the MPGe rating. The new electric cars are rated at 122 MPGe, which means they give an equivalent fuel economy of 122 miles to the gallon when driven in city conditions.
Sales in the U.S. in 2015 showed a rebound, and numbers for the first two months of 2016 show that the new Fortwo is striking a chord with American buyers.
Taking on the Mini
Smart cars were initially marketed in Europe as replacements for the Mini Cooper, and that helped sales of Smart cars to balloon to 135,000 units by 2004. In 2014, Smart car sales dropped to 56,000 in Europe, but it is interesting to note that the Mini Cooper is starting to fall off the consumer map in place like the United States. While the Fortwo battles to dominate the small-car market in Europe, it may have already won the battle in the United States.
Little Green Machines
Fuel economy is a big reason for many people to buy one car over another, and even a gas-powered Smart delivers the goods. An auto writer from Treehugger.com was able to get 55 miles per gallon out of a Smart, which exceeds the fuel efficiency of most hybrids. Smart cars also have very low emissions, and every Smart car is made of parts that are 95 percent recyclable, which only adds to the idea that the car is extremely green. The company has also done its best to make the manufacturing process cleaner. And when the car has reached the end of its useful life, it can still help the environment by being recycled and not sitting around rotting in a salvage yard lot.