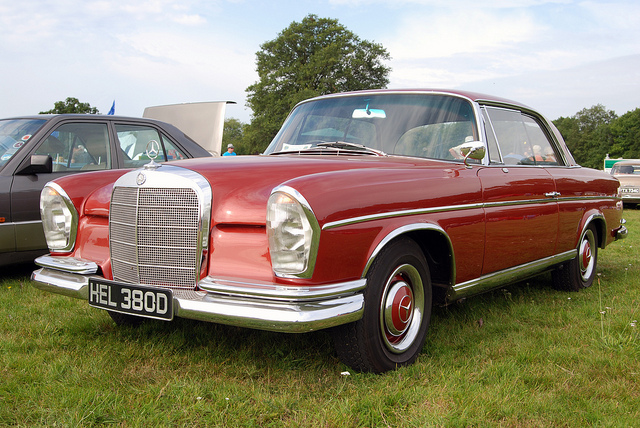 Photo by allen watkin (Flickr)
In the mid-1800s, Gottlieb Daimler and Carl Benz were similarly driven individuals, each working energetically on his own design of a combustion engine. After applying for and receiving patents for their individual engine designs, the two men combined their efforts and formed the Daimler-Benz motor company in 1926. Eventually, the cars produced would carry the brand name "Mercedes-Benz." Anyone with a love of Mercedes-Benz understands the distinction and the joy of collecting rare or vintage models. Traveling down this road less traveled may bring you to the need for finding difficult-to-acquire Mercedes parts. Some collectors and Mercedes-lovers have resorted to innovative and unexpected solutions.
Rare and expensive Mercedes vehicles are collectors' items for drivers with deep pockets. Not only is the initial investment steep, but the maintenance can also be challenging for various reasons. These aftermarket parts and accessories can be difficult to find, and they usually have a very high price tag. Innovative specifications, top engine power and torque, and sleek designs are typically the things that set these cars apart from the rest. For example, a 1954 Mercedes W196R Formula 1 sold in 2013 for $29.6 million, the highest price ever fetched for a car at auction. This steep price has much to do with the fascinating history of this model: It was driven to victory in the German and Swiss Grands Prix by legendary driver Juan Manuel Fangio. Driving away in a car such as this will often set an owner back millions in cash.
Other Mercedes vehicles are simply difficult to service and maintain because they are vintage models with parts that are no longer made. While many owners of these vehicles find it possible to work on the cars to take care of adjustments and replacements, the challenge is to find affordable parts. Websites are one option for finding car parts, but shopping in person is another common pursuit. A Mercedes owner might frequent salvage yards in the hopes of finding usable parts to purchase.
Collectors have several options when searching for the best auto parts for rare and expensive Mercedes-Benz cars. Mercedes-Benz operates a Classic Center designed to help owners restore classic cars. This could be an excellent place to find those hard-to-find parts for a beloved automobile. Membership in the Mercedes-Benz Club of America also provides the opportunity to peruse the club's online classified ads. These listings include both private and commercial advertisements for merchandise and services connected with Mercedes-Benz automobiles. Discussion boards are also active on the club's website, which enable members to post questions about parts and accessories needed to get information about where to buy them. Prices vary depending on the part, whether it's new or used, and other factors.
Some owners think outside the box and get creative. After the initial horror of a worn-out part subsides and the frustration sets in, it might be the perfect time to turn to technology to solve the problem. State-of-the-art 3-D printers allow you to create a plastic model of the part. From this point, you can then create a mold, which will serve as the basis for a new metal car piece.