Few models are as important to the car industry as the Mercedes-Benz G-wagon, or Geländewagen (which is German for "cross-country vehicle"), officially named the G-Class. Designed as an all-wheel off-roader that can scale mountains, drive through mud, skid along sand, and climb over rocky terrain, the G-wagon is pretty much a tank, only one with a jeep-like shape and a much cooler look. It's been used both for war and peace, for consumers and companies, and it's no wonder: It can go pretty much anywhere! With more than three decades in production, this is one of Mercedes's most celebrated models of all time.
History
It took seven years to develop the G-Class. Mercedes coordinated with Steyr-Puch, an Austrian military vehicle manufacturer, after the shah of Iran (a shareholder of Mercedes at the time) suggested that they build a quality SUV. The German company supposedly tested the project, then called the "Haflinger II," in honestly ridiculous locations: the Arctic Circle and the Sahara Desert, among many other locales. When it was released to the public in 1979, it caused confusion (a luxury car company releasing an SUV wasn't what people expected) and then adoration, and the model became a success. In later years, the rugged vehicle was fitted with air conditioning and an automatic transmission.
Military Use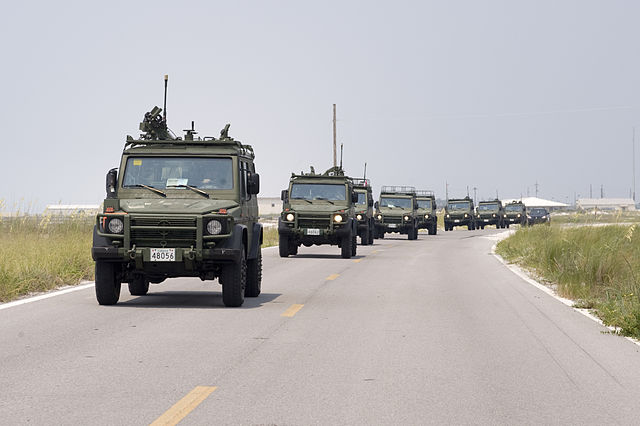 In the history of the Mercedes G-wagon, it has served in 63 armies. Countries from Austria to Australia to the U.S. to Russia all use the Geländewagen in one form or another, with the 460 and 461 models being the most popular. Because these vehicles are reliable and essentially hand-built in Austria, they have been a trusted choice for decades. Many armies mount machine guns or other weapons to its roof.
The "Popemobile"
As we've mentioned before, the pope has a Mercedes among his fleet of vehicles. The G-wagon is used as a secure, open vehicle. Its off-roading capability is an added bonus, if the pope were ever to get in trouble. While Pope Francis prefers more modest, unassuming vehicles, it's good to know that the Mercedes G-wagon is still in his wheelhouse.
"Otto" the G-Wagon
But you don't have to fire bullets or prayers to love and use the Mercedes G-wagon. A German man and his wife took his G-wagon on a more-than-500,000-mile trip around the world, including up and down Africa, to Mount Everest, throughout the U.S., across northern Iraq (even as war ravaged the country), into Vietnam, and more. The vehicle has visited 215 countries. Luckily, he brought the right ride for the journey. He claims that since 1989, his G-wagon, which he lovingly calls "Otto," has never had a serious breakdown. "Otto" will receive a place of honor in the Mercedes-Benz Museum in Stuttgart when he returns.
Not everyone is a fan of the 2016 makeover. The reviews since the DaimlerChrysler era have been lukewarm at best. However, it's hard to imagine a world without this incredible vehicle.