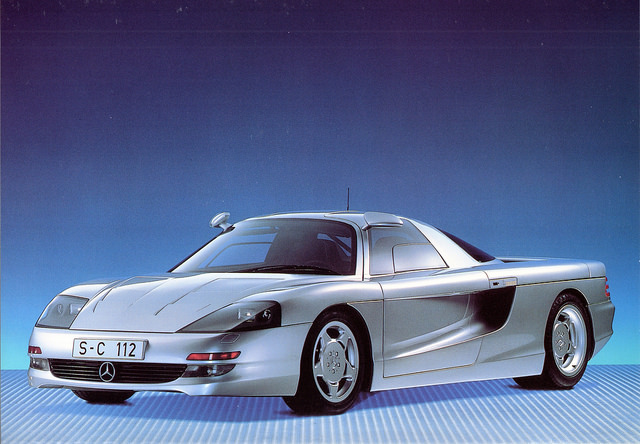 Photo by Alden Jewell (Flickr) [The 1991 Mercedes-Benz C112 concept car is one of the most powerful the company has ever made.]
Anyone who enjoys the Mercedes-Benz brand probably has a strong appreciation of this automaker's approach to cars. Nothing but the best will do for Mercedes vehicles, including the finest parts and accessories available. Designers are accustomed to creating features with the utmost care to deliver one-of-a-kind automobiles to consumers who appreciate this attention to detail. Hand-stitching and custom materials are standard fare at Mercedes-Benz. But some of the most elite drivers choose even more special Mercedes vehicles. These enhanced cars have extravagant features and ostentatious accents that drive price tags up into the millions. It's only the most rare, beautiful, and successful vehicles that fetch prices this high. While these cars are likely far out of reach for most consumers, dreaming about the most expensive Mercedes-Benz cars can be a fun diversion.
The Most Opulent Mercedes Cars
Opulence knows no bounds when discussing customized Mercedes vehicles. One case in point is a CLS 350 owned by a Russian business student. The car has an exterior covered with one million Swarovski crystals. From bumper to bumper, this car is the pinnacle of excess. The owner paid more than $29,000 to purchase the crystals, which she then had added to the car's exterior. A Russian team worked for more than two months to complete the process.
Along the same lines, Garson USA, a company that specializes in luxury auto parts and accessories, had a new Mercedes-Benz SL 600 encrusted with 300,000 Swarovski crystals. The value of this car is a cool $4.8 million, and it's often exhibited at auto shows to promote the company's crystal-studded Mercedes accessories.
The Most Expensive Mercedes Cars
The 1954 Mercedes Formula 1 race car comes in at the top of the list of most expensive Mercedes-Benz cars. A relic by many of today's standards, this car holds the top spot because of its one-of-a-kind history. Juan Manual Fangio, also known as "El Chueco," was driving this car when he set a Formula 1 world record. In 2013, this Silver Arrow was auctioned for $31 million.
The 2011 SLR McLaren Red Gold Dream is another customized Mercedes with an ultra-high price tag. For a mere $10 million, this automobile offers unsurpassed opulence and style. Features such as a gold interior and gold rims set this car apart from the rest. Under the hood, a 5.4-liter V8 engine delivers 999 horsepower and 735 kW torque for ultimate power and speed.
The 1991 Mercedes-Benz C112 is a concept car that packs a powerful punch with a steep price tag. It's worth noting that this C112 may be a quarter of a century old, but it has the distinction of being one of the most powerful concept cars ever made by Mercedes. With a 6-liter V12 engine, this car will reach a speed of 100 kilometers per hour in just 4.9 seconds, making its $4 million price tag seem like a sweet deal.
The 2002 CLK GTR AMG Roadster also makes the list of most expensive Mercedes-Benz cars, with a price tag of $3.5 million. The power and rarity of this car make it special. A 6.9-liter V12 engine gives it speeds of up to 320 kilometers per hour. This vehicle is also able to accelerate from zero to 100 kilometers per hour in just 3.8 seconds.