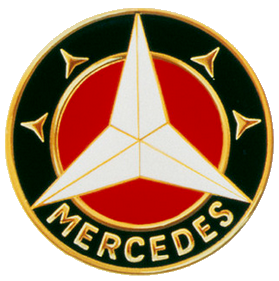 Today, the symbol of the three-pointed star surrounded by a circle is synonymous with the famous brand that provides amazing cars driven by famous people and characters like James Bond. Cool, classy, and simple, it's a beautifully designed logo that's changed very little over the years. But the symbol also has a hidden history and a hidden meaning. From a scribble on a postcard to the front of some of the most famous cars in human history, this is the story of the logo that's become recognized for its style and class.
The Trademark's History
When asked to conceptualize a logo, Paul and Adolf Daimler remembered their father, Gottlieb, who marked a star above his house on a postcard to symbolize prosperity for his home and his business. In June of 1909, both a three-pointed and four-pointed star were trademarked by the DMG board. But today, the company is most commonly known by its three-pointed symbol. Later on, the companies of DMG and Benz & Cie. combined and formed a syndicate in 1924, and their logos also combined: the three-pointed star of Mercedes and the laurel wreath of Benz. Now, on every continent, the simple three-pointed star surrounded by a circle is recognized as being indicative of excellence in German engineering. It's also become a common element in pop culture, appearing on tattoos and in fashion.
What it Represents
The now-famous three-point star is meant to symbolize Daimler's goals of motorization on land, on water, and in the air. The company's goal was to completely dominate the three modes of transportation by creating the best vehicles for all three. Why would a car company have a logo that symbolizes all three modes of transportation? Well, initially, the company branched off into other areas of engineering. For instance, they created the famous plane the Mercedes D.III (or F1466), which featured a super-powerful engine that clocked in at 217 hp at 1,750 rpm. Today, they occasionally try their hand at designing super-luxurious private jets. The one mode of transportation they seem to neglect is water, but they're not necessarily out of that business, either. They've partnered with other companies and inspired incredible creations, such as famous, lightning-fast Cigarette Racing boats.
Pointing Us in a New Direction
While they focus much more today on land transportation than sea or air transportation, the three-pointed, circle-adorned logo is still indicative of one thing: excellence. The brand has become absolutely dominant by focusing on their expertise in land innovations and offering the best in land transport. (By the way, Daimler doesn't necessarily only focus on luxury sports cars; they also produce large and small energy-efficient trucks for heavy lifting, buses, RVs, and even school buses!) So it's hard to say whether the company will focus on the other directions of the star in the future. Hopefully, we'll get a safe, German-engineered helicopter car that can also skid across the water and provides comfortable autonomous driving while on land, but who knows what they'll come up with next?