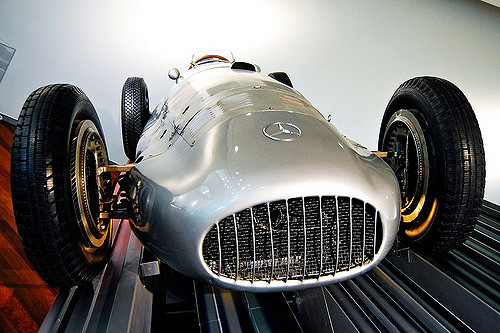 Photo by FulviaFiend (Flickr)
The first auto endurance race occurred in 1894, and participants traveled between Paris and Rouen. Vehicles without horses were invited to participate in the event to display their operating safety, reliability, and best speeds. The first vehicles to cross the finish line on that day had engines designed by Gottlieb Daimler, which gave this automobile pioneer a meaningful start to his industrious career. This event also sparked a worldwide pursuit of speed that would carry through to the present day, and Mercedes racing has played a significant role in motor sports and auto racing throughout history.
1885: Paul Daimler, son of Gottlieb, was seen driving a two-wheeled vehicle that was powered by a combustion engine. The vehicle actually had two auxiliary wheels added for extra stability.
1890: Gottlieb Daimler's engine manufacturing business was so successful that he created the Daimler Motor Company.
1894: The Petit Journal of Paris sponsored the first auto race on a course between Paris and Rouen. The contest attracted the participation of 46 entrants, and it was a fascinating test of steam, electric, and combustion engines.
1895: The Automobile Club of France organized another car race in 1895, which involved traveling from Paris to Bordeaux and back. Cars with Daimler engines prevailed in this race.
1900: Gottlieb Daimler died. At the time of his death, he had succeeded in inventing the four-cylinder engine, the foot accelerator, and the honeycomb-type radiator.
1901: The first Grand Prix win for a Mercedes car came at the Nice Race Week.
1914: In the Grand Prix of Lyon in this year, Daimler-Motoren-Gesellschaft celebrated a finish in the top three spots.
1926: Daimler Benz AG was the result of a merger of two separate brands owned originally by Karl Benz and Gottlieb Daimler.
1927: The first Mercedes-Benz car was introduced to the world.
1929: The SSKL Racing W06RS was introduced. This full-sized racing and luxury model had a roadster style. The acronym SSK stood for "super-sport-short" in German, denoting a shorter wheelbase than its predecessors.
1931: Rudolf Caracciola was victorious in the Mille Miglia driving an SSK across the finish line.
1934: The first Silver Arrow was released, the W 25. These legendary racing cars broke records with their extraordinary engineering and impressive speeds.
1935: Carracciola won six races in this year, securing his place as European champion.
1936: Silver Arrows enjoyed a number of record victories in races between 1936 and 1939.
1939: Hermann Lang ousted Carracciola as European champion with five out of eight victories in the Grands Prix that year.
1944: Daimler-Benz automotive factories received extensive damage during World War II from Allied bombing.
1954: Mercedes-Benz triumphed with Formula 1 world championship titles in this year and the next with its W196R.
1967: The company Mercedes-AMG was founded as a separate division that was devoted to producing high-performance vehicles, parts, and accessories. The first automobile produced by this division was called the "Red Sow."
2010: A new era of Silver Arrows was born with the release of the MGP W01.
2014: An all-new Silver Arrow returned to the race tracks with hybrid power. The F1 W05 Hybrid was victorious in the Formula One World Championship.