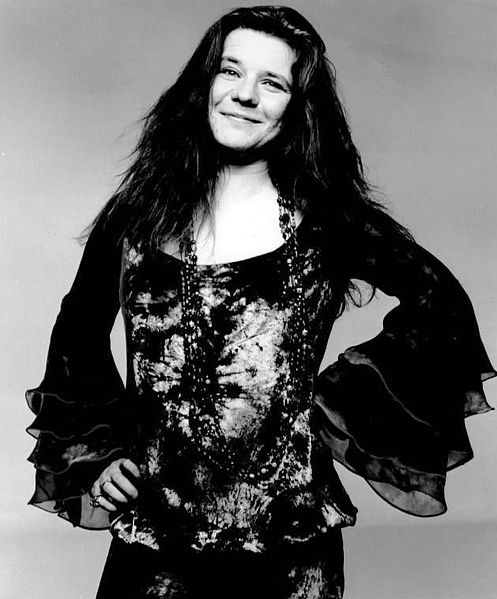 Photo by Grossman Glotzer Management Corporation (Wikimedia Commons)
The Mercedes-Benz brand is an icon of style, class, and performance. As such, Hollywood executives, singers, and many other media moguls love to reference it. Over the span of decades, there have been some pretty interesting homages, not to mention obvious situations of product placement. Many of them have been great, but here are just a few of those instances of Mercedes in films, songs, and pop culture in general that are honestly bizarre.
"Mercedes-Benz"
Janis Joplin's iconic a cappella song "Mercedes Benz" is one of the most famous songs referring to said brand, probably because of its catchy, greedy, and self-serving main lyric: "Oh lord, won't you buy me a Mercedes-Benz?" She then proceeds to ask for a color TV, a night on the town, and the next round. That's pretty demanding. This "song of great social and political import," according to her, is a rejection of consumerism and has gone down in history as a song reminiscent of the hippie era. She's a bit of a hypocrite, though, since she loved to drive a Porsche.
Mario Kart 8
You know what's great? Riding around in Mario Kart throwing stuff at your friends and beating them to the finish line. You know what's odd branding? Replacing the carts with Mercedes-Benz vehicles. That's right! You can let your favorite Nintendo characters like Mario, Donkey Kong, and Princess Peach ride around in a Silver Arrow, 300 SL Roadster, or current Mercedes-Benz GLA in Mario Kart 8. Mercedes also held a worldwide online tournament for the game, which has been around for more than two decades, called the "Mercedes Cup."
Spaceballs
As we've mentioned before, the 2001 SEL Limited Edition spaceship Princess Vespa drives after jilting her yawning spouse-to-be in Spaceballs (1987) was indeed a Mercedes. Her droid of honor, Dot Matrix, later forbids Barf from barfing in said vehicle: "Not in here, mister! This is a Mercedes!"
Kanye West's Songs
This combination of car and man has lead to such magical poetry as this:
"Mayonnaise-colored Benz, I push Miracle Whips" (From the song "Last Call")
Impressive, isn't it? How about this existential, artistic lyric:
"They ain't seen me cause I pulled up in my other Benz/Last week, I was in my other, other Benz." (From the song "Otis")
Well, they can't all be winners. Whether his songs make you want to dance or scream, they're full of shout-outs to the iconic car company.
The Hangover
Another famous comedy that sports a Mercedes, The Hangover features a 280 SE convertible, which gets beaten a great deal over the course of the movie.
"Mercedes Boy"
This is a hyper-sexualized bit of 1980s cheese by the artist Pebbles, involving a woman hitting on a man from her Mercedes-Benz. Again, it's famous for catchy lyrics, like, "Do you wanna ride in my Mercedes, boy? Tell me what you're gonna do with me." It's art in motion.
Liar Liar
The sexy SL 500 got a small scratch in the movie Liar Liar, and main character Fletcher Reede (played by Jim Carey) just about lost it afterward, especially when he realizes during his truthful rant that he can do pretty much nothing about it.
Transformers: Dark of the Moon
Bad guys are usually Nazis, so logically Michael Bay wanted a German car company to represent a Decepticon named Soundwave.
Mr. Mercedes
Here's a recipe for success: Mix author Steven King's detective-novel-writing skills with a character who plows through a crowd with a stolen Mercedes. This high-suspense thriller will make your heart race and is the first part of a trilogy called The Bill Hodges Trilogy. It was also rumored to, at one point, get a television show.